Recovery from hail damage
Hail damage can occur any time during the growing season. What the damage looks like at harvest will depend on how mature the fruit was and how large and hard the hail was it struck. A hard impact early in the season could cause a very deep depression and deformation of the fruit. Later-season damage could appear more bruiselike.
It is important to inspect damage of fruit trees as soon as possible after a hail event as the level of damage can be obscured by subsequent growth. Hail can impact on the foliage, flowers, stems, branches and fruit in various ways.
Management of hail-damaged trees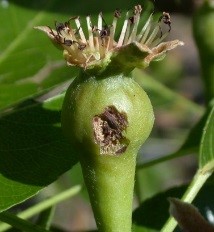 Hail wounds on the fruit and bark may need fungicides to prevent disease entry.

Wounds are a key infection site for disease, and particularly bacterial diseases.

Severely damaged stems and branches should be pruned off as soon as possible to prevent infections. Stems of branches should be sealed to protect against infection.

To reduce the risk of pests and disease remove or mulch fruit that has fallen to the ground.

Replacement of young trees may be necessary if damage to the plants is severe enough.

Fertilizers and irrigation applied at optimum levels will help the trees overcome the stress caused by the hail damage.

Inspect damaged plants more frequently for pests and diseases.

Where practical, large wounds on trunks and branches should be covered with a water-based paint to avoid desiccation and disease infection.

Summer pruning may be necessary to retrain young trees and optimise new growth.

Use fruit thinning to selectively remove hail-damaged fruit and to improve yield and quality of remaining fruit.
This is the high-risk period for infect ion with apple scab and brown rot. Fungicide protection of injured tissues is necessary immediately after a hailstorm to prevent fungal colonization of wounds. For this purpose, a combination of two fungicides is recommended, one preventive and one postinfection, curative.
If symptoms of apple scab appear, an eradication of scab lesions has to be done with another two treatments in short intervals. Balanced application of foliar fertilizers with fungicide treatments can also be applied to plants to overcome the effects of stress caused by hail.
Besides apple scab, brown rot infection need also to be on growers minds, especially in those orchards with the history of brown rot. Besides fungicide treatments, sanitation practices that reduce the amount of fungal inoculum are integral to brown rot control.
For more information on fungicides which can be used for this purpose, please contact your agronomist or FGVL Industry Development Officer Petar Bursac on 58 253700 or email This email address is being protected from spambots. You need JavaScript enabled to view it.

References:
Department of Economic Development, Jobs, Transport and Resources

, Victoria

Compendium of Apple and Pear Diseases, Published by the American Phytopathological Society
We have also attached an article from APAL providing a review of the meeting held on Thursday, 15 October in relation to the Hail Event. APAL also share their preliminary marketing ideas to turn any pears affected by the hail into a positive and exciting marketing campaign.