Orchard Action
Fruit Growers Victoria AGM - 15 November 2016
Fruit Growers Victoria under the Orchard Action Project – Co Production of Knowledge to Victorian Pome Fruit Orchardists, held a grower information meeting combined with the Annual General Meeting on Tuesday 15th of November 2016 at DEDJTR Tatura. The event was well attended by growers and others from the industry.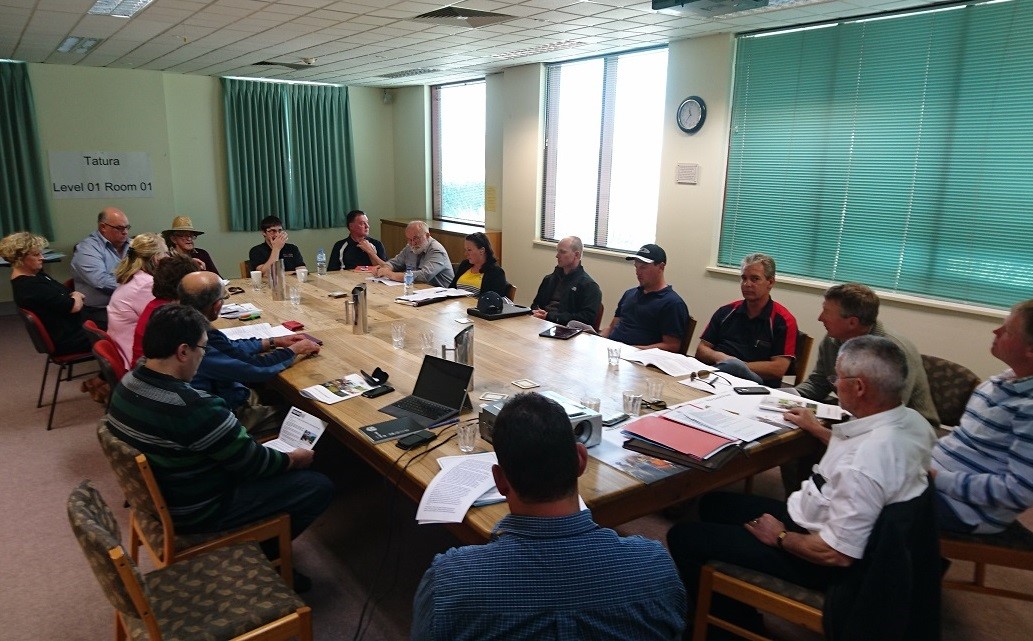 FGVL Meeting attendees (left); Lis Blandamer, VFF (right)
Lis Blandamer, Hort Group Manager at the VFF gave a presentation on different issues confronting the fruit industry such as the Backpacker Tax, Modern Award Review, National Minimum Wages, Union Rights and The Horticulture Code of Conduct
The topic of most interest to growers was the Backpackers Tax. Lis presented the proposed changes regarding this tax:
• tax on 19% from the first dollar up to $37K
• visa application charge to be reduced by $50 to $390
• Superannuation payments to be taxed at 95c in the dollar
• The visa age range to be extended to 35 years, up from 30
• Employees will be able to stay with same employer for 12 months, but only 6 months at any one location
• Employers must register with ATO as an employer of Working Holiday Maker visa holders (417 or 462)
• $10m over 2 years to Fair Work Australia & the ATO for compliance
• $10m over 3 years to Tourism Australia to promote a working holiday in Australia
• Passenger charge (departure tax) to increase by $5 to $60
Dr. Rebecca Darbyshire is a well-known Research Officer at NSW DPI, Wagga Wagga. Rebecca's research centres on interpreting environmental changes into meaningful implications for natural systems. Rebecca is applying her skills to determine the potential value of seasonal climate forecasts in many agricultural sectors (cotton, rice, beef, sheep, sugar, grains) with the aim to improve the profitability of Australian agriculture. Rebecca has a wide national and international collaborative network including working relationships with scientists and industry in many Australian states and internationally including the USA, Canada and France. A highlight of these collaborations was working as an invited scholar in INRA, France in 2016 to investigate the global responses of apples to rising temperatures.
Rebecca's presentation focused on flowering. She presented new models of calculation of winter chill hours. More information on these calculations can be found on following link: http://www.piccc.org.au/sites/piccc/files/Horticulture%20winter%20chill%20fact%20sheet%20FINAL_1.pdf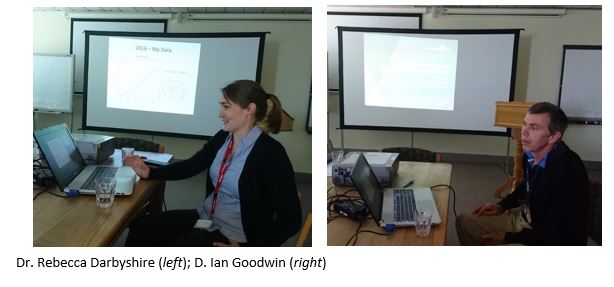 How does temperature influence winter chill?
Accumulation of winter chill to break dormancy is largely a temperature dependent process. The relationship between temperatures and temperature regimes in dormancy breaking are varietal-specific but there are some general aspects:
freezing temperatures do not contribute to dormancy breaking
there are optimum temperatures for the accumulation of winter chill
temperatures either side of the optimum decrease in ability to contribute to winter chill
high temperatures can undo previously accumulated chill
cycling moderate temperatures with effective chilling temperatures enhances the accumulation of winter chill.
Chill portion calculator for Australian fruit trees can be downloaded from HIN web site: http://www.hin.com.au/resources/chill-portion-calculator-for-australian-fruit-trees
D. Ian Goodwin leads the horticultural production sciences research team at DEDJTR, and has had a long and influential career in horticultural science, particularly in irrigation, fruit tree agronomy and viticulture production. He completed his undergraduate and PhD studies at the University of Melbourne, and has worked in horticultural research and development for the state government for more than 30 years.
Ian gave a brief presentation on the Horticulture Production Sciences Research Centre at Tatura, its staff, collaborations, external funding sources and projects. After his presentation, growers visited DEDJTR's orchards where different types of trials were presented by Ian and guest researcher from Italy, Dr. Luca Corelli Grappadelli. Modern equipment for fruit size and photosynthesis measuring was presented to growers.