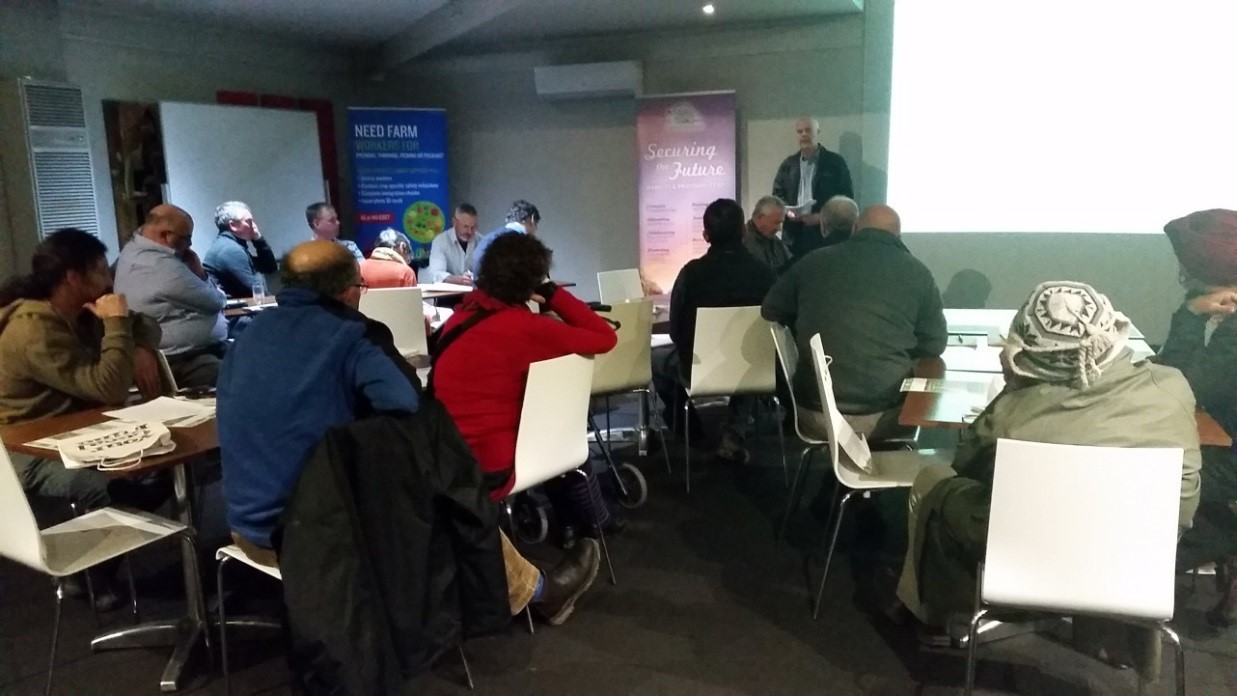 Fruit Growers Victoria Season in Review for northern Vic was held in conjunction with the AustSafe Super Roadshow on 21st June 2016 at The Connection.
More than 30 people were in attendance to hear presentations by AustSafe Super, Madec, Tony Filippi, Peter Hall and FGVL Directors Gary Godwill, Matthew Lenne & Roger Apted.
Tony Filippi from Integrity Fruit used an informative PowerPoint display which covered a broad range of issues and focused on changing the way growers look at their production data with a view to producing more marketable fruit.
Tony then sought input from growers in relation to production levels and issues encountered in season 2015/16. With only slight variation growers reported the season had been good for those growers unaffected by hail. There was discussion on topics including heat, hail, sunburn and coddling moth.
Kristen Elliott from Madec gave an interesting presentation centred around the services offered by Madec including numbers of harvest workers inducted and the ensuing challenges.
FGVL's corporate member AustSafe Super was represented by Michael Wynne. Michael informed growers about superannuation obligations and the way that AustSafe Super could help employers and employees. As part of his presentation Michael informed growers that AustSafe is able to help growers fulfil their superannuation obligations in a simple and timely manner. The presentation included information on Super Friends - a national mental health promotion foundation that helps not for profit superannuation funds to promote and support improved mental health and wellbeing for their members. http://www.superfriend.com.au/
FGVL directors reported on the issues facing Fruit Growers Victoria. Options for the future were outlined including the possibility of greater collaboration between APAL and VFF. The general feeling of the meeting was that FGVL was considered to be in the best position to source and gauge grower opinions and was the "on the ground" link that needed to remain as independent as possible.
The last speaker was Peter Hall who gave an informed report on QFF in the Goulburn/Murray Valley and water issues of concern to all orchardists.
All presentations from the evening can be downloaded below....