Orchard Action
Gippsland Fruit Growers AGM and FGV Season in Review Meeting
Fruit Growers Victoria under the Orchard Action Project – Co Production of Knowledge to Victorian Pome Fruit Orchardists, has held Season in Review and Gippsland Fruit Growers Group AGM Meeting was held on Tuesday 10th of May 2016 in Shanika's Viale at Pakenham. Despite the fact that most of the growers were busy with finalizing of picking of Pink Ladies before the start of rainy period, the event was well attended. Prior to the meeting, visitors had an opportunity to see presentations made by Russel Fox (Insense and Desire Pest Management) on Menilik Dyer (Hectre).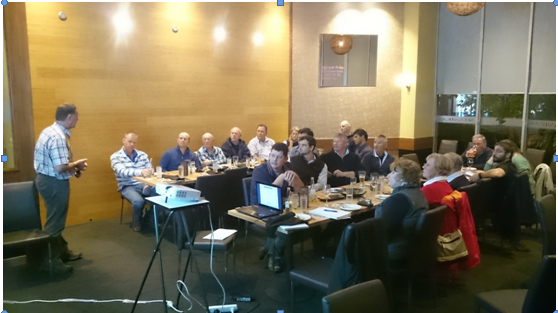 Russel Fox is a horticultural adviser with many years of experience in IPM and Queensland Fruit Fly management. Russel has given presentation on importance and management of Queensland Fruit Fly Management in Cobram Region and example how some of the countries, such as New Zealand has dealt with this problem. Russel has also presented some of the special – nontoxic products for pest control, monitoring and plant protection of the company Insense and Desire Pest Management.
Hectre is a technology company from New Zealand that builds simple, powerful products for Orchards and Farms. Menilik Dyer is a software developer from who has developed an Orchard Management Software. This software enables growers to have easy and quick access to all information on their orchard such as picking operations, bins labeling, spraying, mapping et. Both presentation have been followed by discussion and practical questions from growers.
During the Season in Review Meeting, growers have discussed on quality and quantity of this year's production, problems and challenges and some predictions in regards to marked demands in following year. Growers have agreed that we had a successful year but also commented on variation of the yield on some of the blocks and also variation in size and coloring of some varieties. There has been also noticed increased activity of some pests such as mealybug and woolly aphid which could be caused by bins which are circulating through different orchards and regions and changes in IPM program under the pressure from advisers from chemical companies.
Directors of Fruit Growers Victoria have welcomed Petar Bursac, who has returned to the company and given brief report on activities of the organization during 2015-16 year. Petar will be responsible for visiting all members of the organization and potential members in all parts of Victoria. Directors have asked growers to feel free to contact Fruit Growers Victoria on all matters and issues where organization could help by making appointment with Industry Development Officer, Petar Bursac.