BECOME A FRUIT GROWERS VICTORIA PARTNER
At Fruit Growers Victoria (FGV) our aim is to create mutually beneficial partnerships with organisation who are committed to our mission which is to ensure a sustainable future for horticulture across Victoria.
FGV is a trusted representative for our member base and represents over 300 fruit growing, packing, and exporting businesses across the North-East, Central and southern growing regions of Victoria.
Partnering with FGV is a unique opportunity to directly engage with growers, the regions and industry through:
Business events and networking opportunities
Digital and print business promotions
Strong client and industry relationships
Support of local events and projects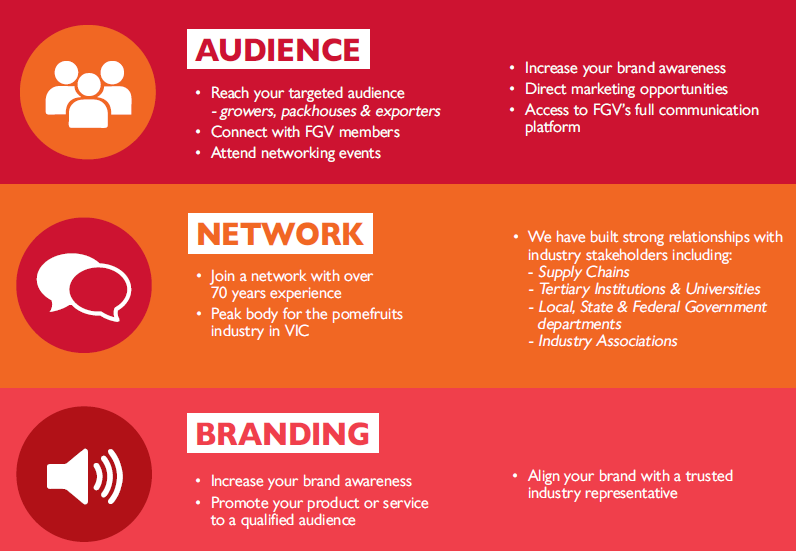 Our Partnership Package offers a variety of exposure levels and the opportunity to develop a mutually beneficial partnership that will align with your business goals.
If you would like to take find out more information or take advantage of this opportunity, please contact FGV's Business Development Officer, Mel Floyd on P: 0448 288 253 E: This email address is being protected from spambots. You need JavaScript enabled to view it. or call our office on 03 5825 3700.

Platinum sponsor
Sunsuper

Sunsuper is one of Australia's best performing and most-awarded super funds, with a long history of supporting hardworking communities and industries in rural and regional areas.

We can help you sort your super and start making important steps to achieve your retirement dreams. We also help more than 100,000 businesses across the country manage their employees' retirement savings through a range of products and services designed to make managing super efficient.

Your local Regional Manager and Customer Service Team are on hand to help.
To find out more visit sunsuper.com.au or call 13 11 84.